Dr. Marcia McFee
(
UMC
)
This is an excerpt from Dr. Marcia McFee's new book [Think Like a Filmmaker © Marcia McFee, 2016]. Find out more HERE.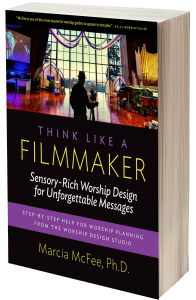 Films require a vast number of people in multiple departments to pull off the artistic vision and the details related to the vision. Let's take a look at some of these roles (Nel Paul et al., The Film Director's Team) and how they might inform our own attention to the kinds of team members we need for sensory-rich worship design.
Read full article...
The Rev. Frederick Buechner
(
PCUSA
)
In our blog post every Monday we select a reading from the Revised Common Lectionary for the upcoming Sunday, and pair it with a Frederick Buechner reading on the same topic.
On June 19, 2016 we will celebrate the Fifth Sunday after Pentecost. Here is this week's reading from the book of Galatians:
Read full article...